Every project manager wishes that they had an easier way of making team members corporate, and many are already using some of the best work management platforms in the market. If you've heard about these tools and are wondering which one's the best since the market is already flooded with so many, this guide can help you choose one.
What Is a Work Management Platform?
A work management platform is a software that facilitates and manages work. It helps individuals and teams to be more productive by providing them with tools to collaborate better, communicate more effectively, and stay organized.
If you manage a team or work on projects with others, you know how important it is to have a sound system for managing your work. There are many different options out there when it comes to choosing a work management platform. But which one is right for you and your team?
The 10 Best Work Management Platforms
Now that we've seen some of the features to look out for in the best work management platforms, it's time to look at the actual tools you can consider.
Asana
For those who work on deadline strict projects, Asana is a great tool to work with. The best thing about it is that it also supports integration with a time management tool so you can time-track your tasks.
Asana performs best with small teams who manage most of their tasks online. However, it may be a little challenging to scale it for a group that's rapidly growing organizations.
Asana beats most other work management platforms because it offers a free plan with basic features for individual users.
Features of Asana
Efficient team collaboration – Asana continuously upgrades features to incorporate things like video messaging. Asana's video messaging feature available via Vimeo is excellent for online communication. The addition of video mixed with the platform's existing real-time messaging capabilities is a great way to boost engagement and gather information from all around the world — resulting in faster, more accurate communication and more effective collaborations.
Excellent customizable interface – Asana allows you to create a variety of customizable dashboards — one for each employee, one for your team, and even one for your personal needs. It's great for keeping track of progress on various tasks and planning the next steps in your project. But it's also helpful for connecting with other users from all corners of your organization, including customers and job applicants.
Project prioritization – Asana implements project prioritization through its Focus Mode feature, designed to allow project managers to focus more on productive tasks. Through the Harvest integration, you can break down projects into simpler tasks and subtasks with names and suitable deadlines.
Communication portal – with the smart inbox feature, you'll get to transfer important corporate communication data without using third-party applications. It gives you the chance to neatly arrange and store your corporate communication without missing important updates like it's with a heaped email inbox.
Project history – one excellent feature that Asana has is that every project, task, and subtask is part of the Activity Feed and tags those users or teams that are supposed to utilize the information posted.
With the powerful search feature, you can filter through tasks and projects to find what you're looking for with ease. The administrator is given the right to manage permissions, so every user's access is managed and controlled accordingly.
Integrations – Out of all the best work management platforms reviewed, Asana offers the largest number of integrations. Any tool out there you can think of can be integrated into Asana with ease. Some of the supported integrations include Dropbox, Zapier, Google Drive, Slack, Jira, WordPress, MailChimp, Zendesk, GitHub, and many others.
Asana Pricing
Asana has a perfect pricing plan that can let you test it before fully committing. Their basic version available for the individual user is free. There's also a free package available for up to 15 users. If satisfied and ready to enjoy the premium features, you'll only part ways with $25 per user every month.
Monday.com
If you run projects that are often not defined by industry standards, then Monday.com is the best work management platform to choose. It allows project managers to easily create tasks and assign team members as needed.
Monday.com is the solution for enterprises that need to collaborate, organize and divide work amongst teams. With the calendar-based online platform, you can assign tasks, track due dates and keep everyone on the same page — all with integrated social messaging, time tracking, and analytics.
monday.com has a unique way of collaborating, which will definitely help your business achieve its goals in record time.
One disappointing issue with Monday.com is that they don't offer a free plan, so that means you have to pay their essential subscription to get the chance to try it out.
Features of Monday.com
Calendar view – Monday.com offers a calendar view where you can easily create tasks by selecting the preferred date and time.
Intuitive interface – Monday.com's customization features make the product useful to individual teams. Each team can use the dashboard to display different visual updates, allowing the whole team to see how their project is progressing. The customizable visualization tools and data displays let teammates track progress and focus on what matters most.
Efficient workload management – as one of the best work management platforms, Monday.com allows you to arrange tasks into groups for easy management. You can allocate each of the tasks to individuals or a team.
Effective collaboration – the collaboration on Monday.com is at another level as it allows team members to do updates or comment on tasks. Users can also do file sharing using hyperlinks to enable others to view and edit files.
Integrations – Monday.com supports integrations, but it's limited because it doesn't feature a word processing tool or an e-commerce system, among other important apps. But it compensates for this by offering integrations with tools such as Shopify, Harvest, Salesforce, and SurveyMonkey.
Monday.com Pricing
Monday.com offers an expensive subscription plan without a free option. Plans start at $8 per user every month.
Smartsheet
Smartsheet is a highly intuitive task management platform that simplifies the difficulties of handling projects. It includes features that help with resource management, content management, feedback, documentation, reporting, etc.
The good thing about Smartsheet is that it's not limited to a particular industry. It can be used for managing different projects in digital marketing, sales, and information technology, among others.
In the beginning, it is easy to assume that you'll need in-depth training to grasp what the tool has to offer. But the truth is Smartsheet simplifies every aspect of project management with its highly intuitive interface.
Features of Smartsheet
Content management – Smartsheet is an excellent tool for content managers. You can capture all of your content in one central location, and it can help you manage all of your blogs, podcasts, and social media accounts in one place. Smartsheet's organization makes it easy to create and publish content on time for bloggers, YouTubers, and other content marketers.
Team collaborations – Smartsheet helps teams collaborate on projects, big and small. With its ability to collect anonymous feedback with forms that are easier to create, your team can work smarter rather than harder.
Resource management – managing the resources of a project is always a demanding task that requires the best work management platform with resource management. Luckily Smartsheet excels at this by creating a visualization of team members' utilization capacity. It also allows you to find a team member with the right skills for a task, cut down project costs, and keep growth steady.
Process management – if you work on multiple projects, Smartsheet can help you manage processes effectively. The task manager offers plenty of functionalities to manage different projects from a single control dashboard effectively. You can easily create a project using the existing Project blueprints and strategic dashboards.
Task automation – Smartsheet automation lets your team members quickly create task automation and save time on repetitive tasks. Users can create automated workflows that auto-complete even the most demanding tasks by linking to other documents and services and setting up interactive rules.
Smartsheet will automatically notify assignees about crucial changes and remind them about oncoming deadlines. Other automation features include seeking the approval status of created content.
Integrations – when working with external collaborators or clients, Smartsheet allows you to sync your projects effortlessly. The tool supports integration with different communication apps and task management tools, so you don't have to pay extra to have those tools.
IT Requests and Ticketing – This feature on Smartsheet lets users record their IT requests that can be accessed anytime on desktops or mobile devices. Requests are opened, resolved, and closed using a simple dashboard.
Smartsheet Pricing
Smartsheet offers a free trial for 30 days. That's great if you want to try out the tool, though it might not be sufficient enough to help you make a decision on whether to upgrade. Alternatively, you can go for their pro version, which charges $7 per month per user. The business version costs $25 per month per user, while the enterprise plan is available on quote.
Airtable
Airtable is a database program that you can use to store and efficiently manage data. It features grids, galleries, and calendar views with smart filtering, grouping, and sorting so you can arrange your work efficiently.
The platform helps you work in teams by making it easy to share data, design dashboards, collaborate with others and track your performance.
Key features of Airtable
Task management – Airtable offers ready templates where users can create projects and tasks. There are over a hundred templates for various industries you can choose to create your tasks. You can select from user research, bug and issue tracking, to social media campaign templates.
Easy customization – Airtable gives users the freedom to customize the rows and columns to fit how they work. Through drag and drop, you can easily data order, sort records, hide fields, and do other customizations with ease.
Integration – Airtable lets you integrate with many other tools through templates to allow users to centralize the information they need. Some of the integrations supported include Slack, GitHub, Stripe, Google Calendar, WordPress, etc.
Task management – the tool offers a spreadsheet view system to let you create and manage tasks with ease. There's also a calendar view so teams can plan and manage their tasks with timelines.
Airtable Pricing
Airtable offers a free trial plan for users who want to try it out first, but there's a basic free plan if you just want to manage basic tasks. Their Plus plan costs $10 per month per user with an annual billing schedule. The Pro version costs $20 per user per month and bills annually. For the enterprise plan, you'll need to contact the vendor for the pricing options.
Basecamp
Basecamp has built a name for itself as one of the best work management platforms for handling multiple projects at a go. It is an excellent tool if you want a simpler way of organizing yourself and being more productive while keeping communication alive.
One excellent feature is that they don't have a per-user fee plan like most other project management tools. And that's a plus for anyone who wants to reduce the costs of managing projects. Basecamp is an excellent task manager that lets you do everything with lots of ease, whether documents, files, tasks, deadlines, or people.
Features of Basecamp
Real-time communication – since it perfectly fits teams working remotely, Basecamp offers numerous communication features so that you won't need third-party apps. These include group chats, pings, and message boards.
Collaboration – Basecamp is one of the few platforms that can handle all of your collaboration needs on one platform: CRM, bug tracking, project management, team chat, and more. Instead of using several different tools (Zendesk, Slack, Facebook) to collaborate with your customers, you can focus on the tasks at hand.
External teams access – when you need to keep your clients and other external collaborators updated with the project progress, Basecamp offers them custom access. That eliminates the frequent status update requests from clients.
Integrated calendar – Basecamp allows you to integrate and sync with external calendars such as Google Calendars, Outlook Calendar, and iCals.
Document sharing – sharing documents and files is important in every project. Basecamp has incorporated the same on every workspace so teams can freely share documents with ease.
Notification management – Basecamp offers users lots of convenience and flexibility by allowing them to manage their notifications for tasks and messages. Users can pause notifications or specify the hours when notifications can stream in.
Basecamp Pricing
Basecamp stands out as one of the most affordable task management tools due to its flat rate. You can enjoy unlimited projects, users, and many other features by paying a low monthly price.
BigTime
Are you running a consultancy firm and need an efficient way of managing your projects? BigTime is the best work management platform to go for. The tool can help you get a real-time and insightful view of upcoming and ongoing projects with ease.
BigTime provides an easy-to-use set of online tools with comprehensive features. You can efficiently manage employees, projects, and clients. There is a feature that links your data together so you can monitor projects in real-time. Reporting is fast and accurate. Invoicing and billing are seamless.
Features of BigTime
Project and resource management – this tool also offers project and task management features with the ability to allocate resources to each task. You can create tasks then assign an hourly rate fee, budget, and other expenses. Through a Gantt chart, you'll easily create, view and update timelines for projects and other deliverables.
Expense and time tracking – BigTime offers customizable timesheets with a daily or weekly view. It gives managers the ability to review, approve, and correct employee timesheets. There are workflows for reviews and approvals with automatic generation of notifications to staff and managers.
Integration – BigTime offers flexibility through integrations with other tools such as QuickBooks, Salesforce, Google Apps SSO, Lacerte, Zapier, and Slack. The task management tool also offers an offline mode functionality to allow users to work offline until internet connectivity is established to do an auto-sync.
Billing and invoicing – as a billing tool for consultants, BigTime offers lots of features to support billing and creating invoices of tasks. It allows setting flexible billing rates with invoicing templates that can be customized to include address, logo, theme colors, etc.
BigTime Pricing
BigTime offers three pricing plans to subscribers. The Express plan costs $10 per month per user, billed annually for a minimum of five users. The Pro plan costs $30 per month per user with a minimum of five users, billed annually. The Premier plan costs $40 a user per month, billed annually for a minimum of 10 users.
Hive
Hive is a tool that lets you manage your projects. With automated task management, you can organize and collaborate easily with your teammates.
As one of the best work management platforms, Hive combines several separate tools to allow you seamlessly plan and execute tasks to completion. Project managers can easily create a task card and then assign it to a team member. Plus, you can include communication with teammates on your task cards.
Features of Hive
Centralized communication – Hive is a secure, shareable workspace where teams can work on tasks and projects through a variety of communication methods such as email, Gchat, Skype, and Slack.
Transparent process management – Hive offers flexible tagging and views of the project so teams can stay alert about ongoing and upcoming projects, milestones, and processes.
Flexible views – Hive has a flexible collaboration where team members can use Gantt charts, calendars, tables, and Kanban boards to gain insight on projects and share the same with each other.
Collaboration – like most other project management tools, Hive offers collaboration features such as chats so teams can communicate in real-time with other members or groups. There's also the Hive Mail, where you can send and receive emails and organize actions without exiting the application.
Reporting – Hive Analytics offers in-built reporting to help project managers closely monitor the performance of team members and teams. There are three dashboards where you'll be able to view the most productive days, tasks according to team members, and overdue tasks.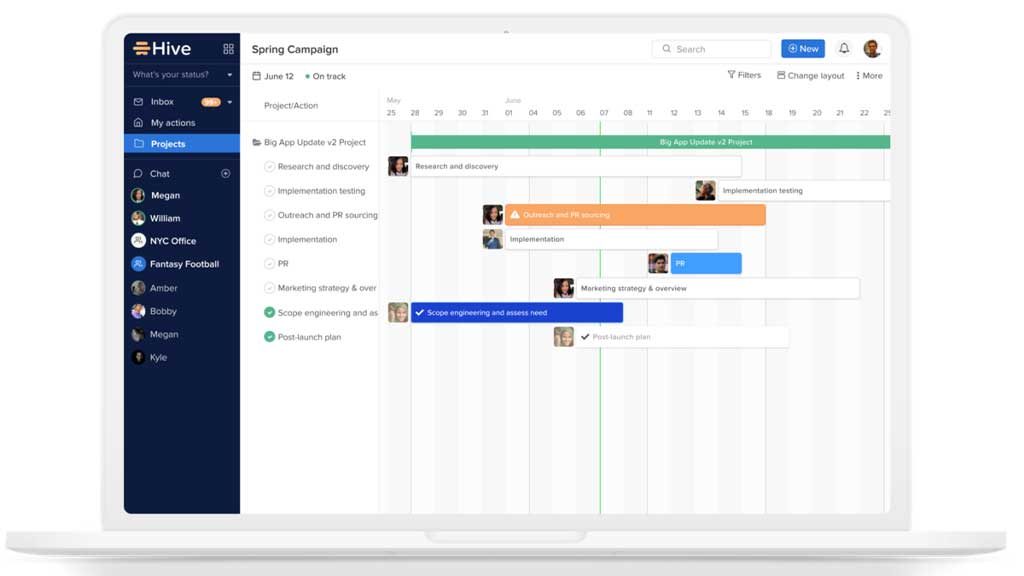 Automation – Hive excels at automation, allowing you to automate repetitive tasks. Once the automation hub is active, you can customize the associated workflow and group action cards.
Hive Pricing
Hive offers a free plan for individuals and teams of two people with unlimited storage. The teams package costs $12 per user per month billed annually.
Mavenlink
Mavenlink is a great tool that has a lot to offer. Despite lacking an internal chat tool, it offers all the excellent features you'd want in project management software. The lack of design polish might make it a hard sell for those looking for a beautifully designed program, but the app offers everything one needs to complete projects.
Features of Mavenlink
Task scheduling – Mavenlink has a standard process of creating, managing, and tracking tasks. Some of the features employed include Gantt charts, task lists, progress dashboards, calendars, etc.
Resource management – the planning tools on Mavenlink make it easier to track and manage resources. You can track the workloads and schedules, so everyone's time is managed efficiently.
Collaboration – Mavenlink offers several modes for users to collaborate. Each task has a comment section so members can discuss the project. It also supports sharing of files by uploading from the task area.
Integrations – Mavenlink can integrate with other tools such as G Suite, Jira, HubSpot, and Slack.
Documentation – As one of the best work management platforms, Mavenlink offers a way to store documents in the task area. It also offers a central area for storing files for accessible location by users.
Reporting – Mavenlink offers a comprehensive budget reporting feature where you can easily track, measure, and view forecasts of all your expenses, invoices, and billing.
Mavenlink Pricing
Mavenlink's pricing is not so transparent. Their website offers pricing according to the industry you're working in and your team size. You also have to provide your contact information before pricing is given.
Runrun.it
Runrun.it is one of the best work management platforms built for service provision companies. It's a time-centered tool for managing tasks, workflows, and projects. With lots of interactive features, you can use the Gantt view to distribute tasks as per teams' capabilities.
The tool has beautiful, and user-friendly dashboards with powerful AI-generated reports to give you a clearer image of your processes.
Features of Runrun.it
Task tracking – Runrun.it is built for managing tasks and team performance against time. It makes it easier to track workflows while keeping documents organized and priorities in check.
Excellent intuitive views – Runrun.it offers a user-friendly interface with customizable dashboards showing time and other delivery metrics. It also uses AI to detect anything that can potentially go wrong and notify you in advance.
Integrations – Runrun.it already has plenty of useful features, but if you want to add other external features, it supports it through integration with G Suite and Zapier. If you want to achieve integration with custom code, it offers a REST API with documentation to let you do that.
Reporting – Runrun.it offers an informative reporting feature that can identify bottlenecks on your project. The reports can also reveal tasks handled by specific employees and other useful insights about the project.
Predictability – Runrun.it uses an advanced tool, Predictive Burnup Chart, to gauge the time period a project is likely to last. It comes in handy in ensuring your projects are appropriately timed so you can beat deadlines.
RR-Board – if you've worked on Kanban frameworks, you'll quickly understand that RR-Board operates in the same manner. It restricts team members from working on another task until they're done with those that are highly prioritized.
Runrun.it Pricing
Runrun.it offers a 14 days free trial plan, after which you'll have to purchase one of the paid plans to continue using. The free plan is available to explore all the available features with a team of 100 users. Paid plans begin at $10 per month per user. The price keeps increasing depending on your team size.
Chanty
If you're looking for a collaboration tool with a task management capability, Chanty is an excellent option. It ranks among the best work management platforms for its ability to turn messages into tasks. You can then assign the tasks to a team member.
There is a search functionality to filter tasks based on date, completion status, and people working on it. With the Kanban board, you can easily manage all the tasks in a single place. You can also set due dates, assign team members, and control the priority and status of tasks.
Features of Chanty
Task workforce management – even though it's not a task management platform entirely, it contains useful features that you can use to manage your tasks. It allows you to create a to-do list for managing tasks, subtasks, and your milestones. If you don't like the list format, there's also the Kanban boards to switch.
Automation – Chanty has automated its communication to allow you to share updates and details with your team automatically and keep everyone on the same page. There are automated alerts and notifications sent for events and deadlines.
Collaboration – Chanty supports collaboration between team members and groups through group and private chats. There are also video calls supported and sending voice notes. You can also bookmark and pin messages to easily find them later when you need them.
Members can also share files by uploading documents to tasks and conversations. There's the option of adding images, GIFs, hyperlinks, and emojis to chats to make conversations friendlier. Sharing code snippets are also supported for ongoing projects.
Integrations – Chanty has impressive integration capabilities. It can integrate with Dropbox, Google Drive, and One Drive to allow file management. It also integrates with coding platforms like Gitlab, GitHub, and Bitbucket.
Analytics – Chanty offers an enhanced communication management platform that supports creating conversations with a task-focused approach. As such, there are no reports or complex analyses provided. There's also a lack of a time tracking feature.
Chanty Pricing
The free plan is excellent for use by a team of up to 10 people. The business plan will cost you $3 per month per user for teams larger than 10 people.
Summary
A business needs to be productive and competitive in today's market. In order to do that, it needs a team of employees who are always on time with their tasks. A good task management software can help you, and your team stay on top of things.
With so many tools on the market, choosing the best work management platform becomes a daunting process. But with proper research, comparing your needs and requirements against what a tool offers, you can find one that's closer to perfection. You can try out one or two of the tools listed here and test them to see if they are a good fit for your organization.